What is atypical‑HUS?
Atypical hemolytic uremic syndrome (atypical‑HUS) is a rare, life-threatening disease caused by dysregulation of the alternative pathway of the complement system, leading to excessive complement activation and thrombotic microangiopathy (TMA).1-3
For treatment of atypical-HUS in adult and pediatric patients 1 month of age and older. Not indicated in STEC‑HUS.4
Complement system dysfunction in atypical‑HUS5-8
In atypical‑HUS, the complement part of the innate immune system is overactivated. This chronic activation leads to microvascular damage, thrombosis, and multi-organ ischemic damage.5
Elevated Baseline of Complement Activity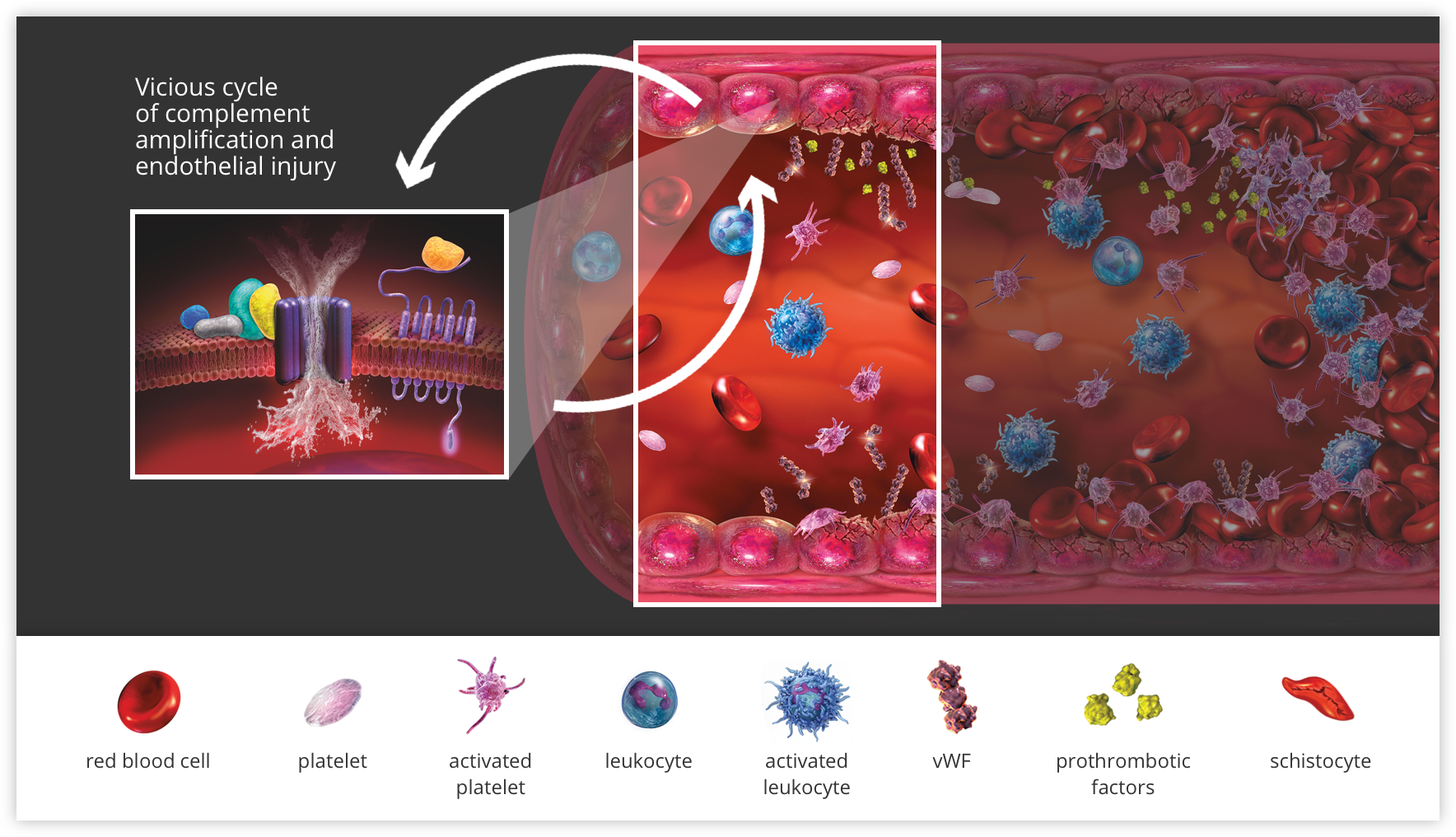 Chronic Complement Activity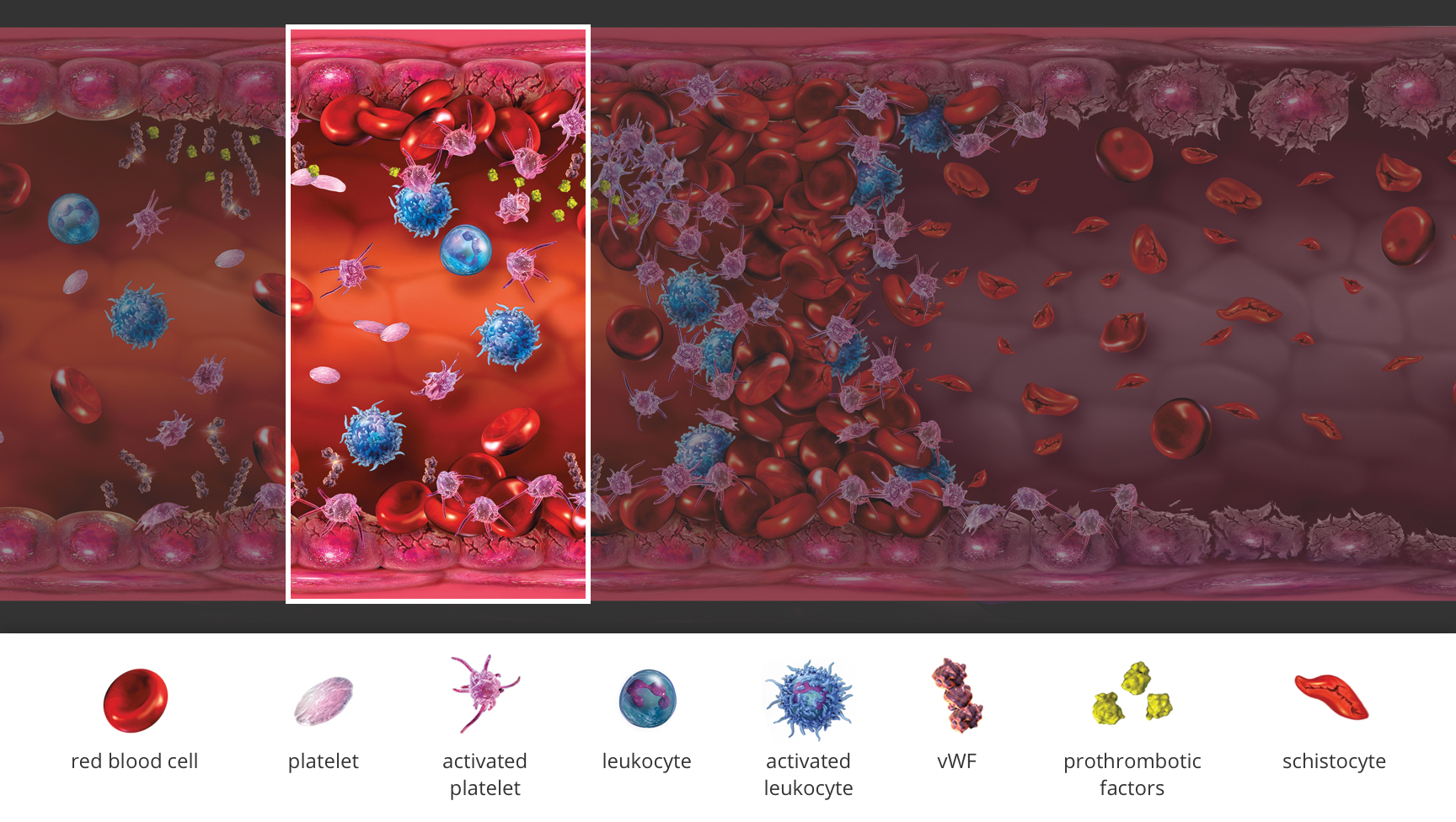 Complement-Mediated TMA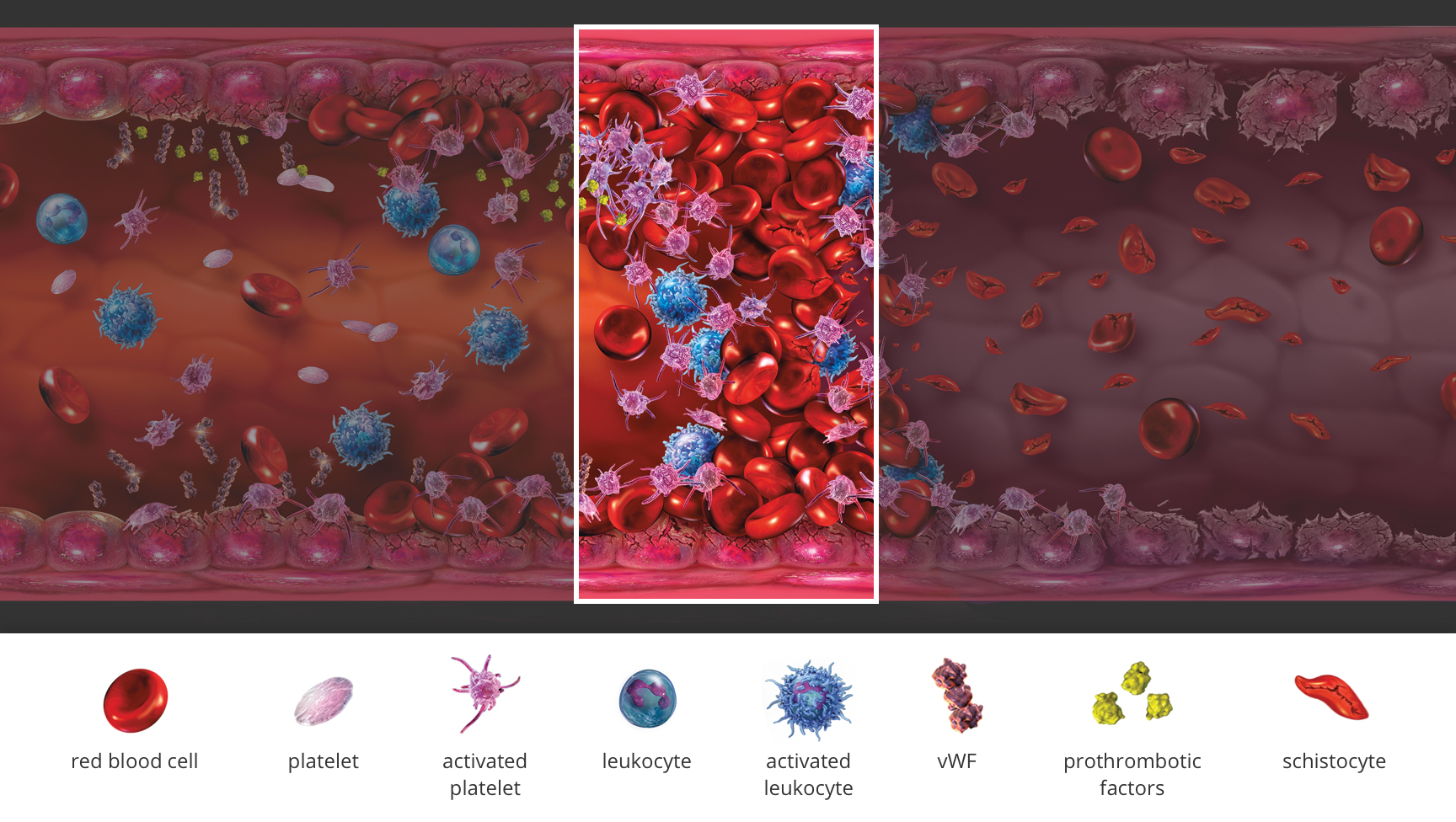 Ischemia
Progressive Organ Damage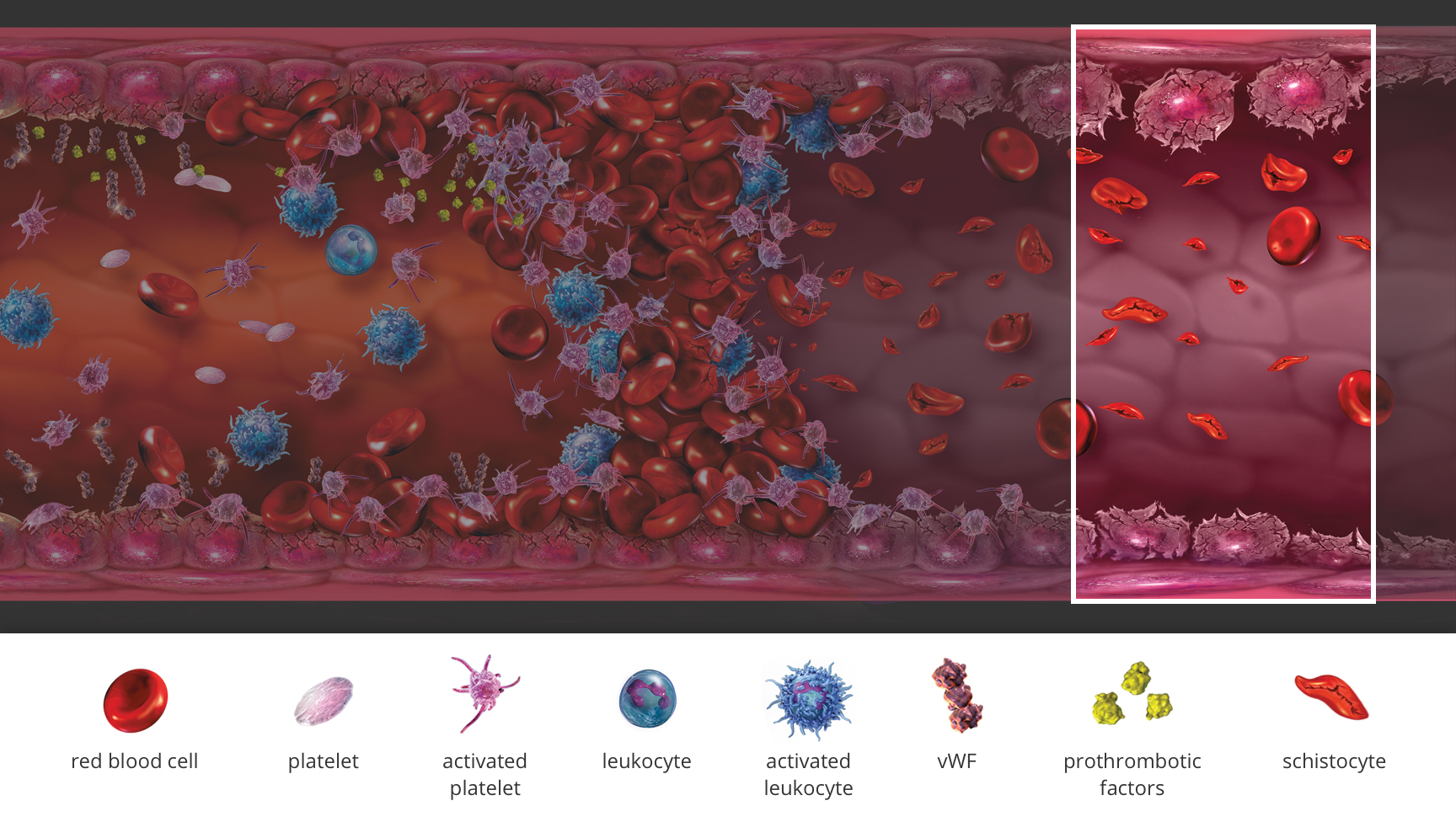 TMA triggersThrombotic microangiopathy (TMA)
can be associated with various triggers3
Atypical‑HUS may be triggered by conditions that activate complement.3 Persistence of TMA despite treatment of associated conditions may suggest atypical‑HUS.9
Triggers that may accelerate activation
of the complement system3
Postpartum
Hypertensive emergency
Transplantation
Transplantation
Autoimmune disease
Medications
Infections
Glomerulonephritis
Malignancy
Surgery or trauma
Differential diagnosis Diagnosing atypical‑HUS requires excluding
other conditions3,9
Many of the signs and symptoms of atypical‑HUS are shared by other causes of TMA.3 Because of its high morbidity and mortality when untreated, identifying atypical‑HUS quickly is important.3,9
Differential diagnosis of TMA, including atypical-HUS1,3,7,9
Thrombocytopenia
Platelet count <150x 109/L
or <25% decrease from baseline
AND
Microangiopathic hemolysis
Schistocytes and/or elevated LDH and/or
decrease haptoglobin
and/or
decreased hemoglobin
Plus 1 or more of the following
Common Symptoms
Neurological symptoms
Confusion and/or seizures
and/or stroke
and/or other cerebral
abnormalities
Renal impairment
Elevated creatinine level
and/or decreased eGFR
and/or elevated
blood
pressure and/or abnormal

urinary results
GI symptoms
Diarrhea ± blood and/or
nausea/
vomiting and/or

abdominal pain and/or

gastroenteritis/pancreatitis
Other Symptoms
CV symptoms
MI and/or hypertension and/
or
arterial stenosis and/or

peripheral gangrene
Pulmonary symptoms
Dyspnea and/or pulmonary

hemorrhage
and/or pulmonary
edema
Visual symptoms
Pain and blurred vision
and/or
retinal vessel
occlusion and/or
ocular
hemorrhage
Evaluate ADAMTS13 activity and Shiga toxin/EHEC testb
While ADAMTS13 results are
awaited, a platelet count
<30 x 109/L and /or sCr <1.7 to

2.3 mg/dL almost eliminates a
diagnosis of severe ADAMTS13
deficiency (TTP)
≤5%c ADAMTS13 activity
TTP
>5% ADAMTS13 activity
Atypical-HUS
Shiga toxin/EHEC positive
STEC-HUSb
bShiga toxin/EHEC test is warranted with history/presence of gastrointestinal symptoms.
cRange found in published data is 5%-10%.
ADAMTS13=a disintegrin and metalloproteinase with a thrombospondin type 1 motif member 13; CV=cardiovascular; EHEC=enterohemorrhagic Escherichia coli; eGFR=estimated glomerular filtration rate; GI=gastrointestinal; HUS=hemolytic uremic syndrome; LDH=lactate dehydrogenase; MI=myocardial infarction; sCr=serum creatinine; STEC=Shiga toxin-producing Escherichia coli; TTP=thrombotic thrombocytopenic purpura.
ULTOMIRIS is the first and only long-acting complement inhibitor for atypical‑HUS1
Your atypical‑HUS patients on ULTOMIRIS can get up to 8 weeksd of continuous protection between infusions.1
dStarting 2 weeks after the loading dose, maintenance doses are administered once every 4 or 8 weeks (depending on body weight).1
SEE HOW IT WORKS
Tools for the journey
Find additional resources and support information to help get your patients started on ULTOMIRIS.
VIEW RESOURCES
Stay up to date on atypical‑HUS
Sign up to receive the latest information from Alexion about ULTOMIRIS and atypical‑HUS.
SIGN UP
References:
Asif A, et al. J Nephrol. 2017;30:347-362.
Jamme M, et al. PLoS One. 2017;12:e0177894.
Laurence J. Clin Adv Hematol Oncol. 2016;14:2-15.
ULTOMIRIS. Prescribing information. Alexion Pharmaceuticals, Inc.
Raina R, et al. Ther Apher Dial. 2019;23:4-21.
Legendre CM, et al. N Engl J Med. 2013;368:2169-2181.
Goodship THJ, et al. Kidney Int. 2017;91:539-551.
Nester CM, et al. Hematology Am Soc Hematol Educ Program. 2012;2012:617-625.
Azoulay E, et al. Chest. 2017;152:424-434.
IMPORTANT SAFETY INFORMATION INCLUDING BOXED WARNING
WARNING: SERIOUS MENINGOCOCCAL INFECTIONS
Life-threatening meningococcal infections/sepsis have occurred in patients treated with ULTOMIRIS. Meningococcal infection may become rapidly life-threatening or fatal if not recognized and treated early.
Comply with the most current Advisory Committee on Immunization Practices (ACIP) recommendations for meningococcal vaccination in patients with complement deficiencies.
Immunize patients with meningococcal vaccines at least 2 weeks prior to administering the first dose of ULTOMIRIS, unless the risks of delaying ULTOMIRIS therapy outweigh the risk of developing a meningococcal infection. See Warnings and Precautions for additional guidance on the management of the risk of meningococcal infection.
Vaccination reduces, but does not eliminate, the risk of meningococcal infections. Monitor patients for early signs of meningococcal infections and evaluate immediately if infection is suspected.
Because of the risk of serious meningococcal infections, ULTOMIRIS is available only through a restricted program under a Risk Evaluation and Mitigation Strategy (REMS) called ULTOMIRIS REMS.
CONTRAINDICATIONS
Patients with unresolved Neisseria meningitidis infection.
Patients who are not currently vaccinated against Neisseria meningitidis, unless the risks of delaying ULTOMIRIS treatment outweigh the risks of developing a meningococcal infection.
WARNINGS AND PRECAUTIONS
Serious Meningococcal Infections
Life-threatening meningococcal infections have occurred in patients treated with ULTOMIRIS. The use of ULTOMIRIS increases a patient's susceptibility to serious meningococcal infections (septicemia and/or meningitis). Meningococcal disease due to any serogroup may occur.
Vaccinate or revaccinate for meningococcal disease according to the most current ACIP recommendations for patients with complement deficiencies. Immunize patients without history of meningococcal vaccination at least 2 weeks prior to the first dose of ULTOMIRIS. Patients who initiate ULTOMIRIS treatment less than 2 weeks after receiving meningococcal vaccine(s) must receive appropriate prophylactic antibiotics until 2 weeks after vaccination.
The benefits and risks of antibiotic prophylaxis for prevention of meningococcal infections in patients receiving ULTOMIRIS have not been established. Consider discontinuation of ULTOMIRIS in patients who are undergoing treatment for serious meningococcal infection.
ULTOMIRIS REMS
Due to the risk of meningococcal infections, ULTOMIRIS is available only through a restricted program under a REMS called ULTOMIRIS REMS.
Under the ULTOMIRIS REMS, prescribers must enroll in the program. Prescribers must counsel patients about the risk of meningococcal infection/sepsis, provide the patients with the REMS educational materials, and ensure patients are vaccinated with meningococcal vaccines.
Additional information on the REMS requirements is available at www.ultomirisrems.com or 1-888-765-4747.
Other Infections
Patients may have increased susceptibility to infections, especially with encapsulated bacteria, such as infections caused by Neisseria meningitidis but also Streptococcus pneumoniae, Haemophilus influenzae, and to a lesser extent, Neisseria gonorrhoeae. Children treated with ULTOMIRIS may be at increased risk of developing serious infections due to Streptococcus pneumoniae and Haemophilus influenzae type b (Hib). Administer vaccinations for the prevention of Streptococcus pneumoniae and Haemophilus influenzae type b (Hib) infections according to ACIP guidelines. If ULTOMIRIS is administered to patients with active systemic infections, monitor closely for worsening infection.
Monitoring Disease Manifestations after ULTOMIRIS Discontinuation
ULTOMIRIS treatment of aHUS should be a minimum duration of 6 months. Due to heterogeneous nature of aHUS events and patient-specific risk factors, treatment duration beyond the initial 6 months should be individualized. There are no specific data on ULTOMIRIS discontinuation. After discontinuing treatment with ULTOMIRIS, patients should be monitored for clinical symptoms and laboratory signs of TMA complications for at least 12 months.
TMA complications post-discontinuation can be identified if any of the following is observed: Clinical symptoms of TMA include changes in mental status, seizures, angina, dyspnea, thrombosis or increasing blood pressure. In addition, at least two of the following laboratory signs observed concurrently and results should be confirmed by a second measurement 28 days apart with no interruption: a decrease in platelet count of 25% or more as compared to either baseline or to peak platelet count during ULTOMIRIS treatment; an increase in serum creatinine of 25% or more as compared to baseline or to nadir during ULTOMIRIS treatment; or, an increase in serum LDH of 25% or more as compared to baseline or to nadir during ULTOMIRIS treatment. If TMA complications occur after discontinuation, consider reinitiation of ULTOMIRIS treatment or appropriate organ-specific supportive measures.
Thromboembolic Event Management
The effect of withdrawal of anticoagulant therapy during treatment with ULTOMIRIS has not been established. Treatment should not alter anticoagulant management.
Infusion-Related Reactions
Intravenous or subcutaneous administration of ULTOMIRIS may result in systemic infusion-related reactions, including anaphylaxis and hypersensitivity reactions. In clinical trials, infusion-related reactions occurred in approximately 1% of patients treated with ULTOMIRIS. These events included lower back pain, drop in blood pressure, elevation in blood pressure, limb discomfort, drug hypersensitivity (allergic reaction), dysgeusia (bad taste), and drowsiness. These reactions did not require discontinuation of ULTOMIRIS. If signs of cardiovascular instability or respiratory compromise occur, interrupt ULTOMIRIS infusion and institute appropriate supportive measures.
Injection Site Reactions-Subcutaneous administration
27% (23/84) of patients treated with subcutaneous administration of ULTOMIRIS experienced injection site reactions which included application site rash, device allergy, infusion site pain, infusion site reaction, injection site bruising, injection site erythema, injection site hematoma, injection site induration, injection site inflammation, injection site pain, injection site pruritus, injection site rash, injection site reaction, injection site swelling, injection site urticaria, medical device site bruise, medical device site erythema, medical device site hematoma, medical device site induration, medical device site pruritus, medical device site rash, and medical device site reaction.
Allergies to Acrylic Adhesives
The on-body injector of ULTOMIRIS uses acrylic adhesive. For patients with a known allergy to acrylic adhesive, use of this product may result in an allergic reaction. Premedication can be considered, and supportive measures should be instituted if signs of allergy appear.
ADVERSE REACTIONS
Most common adverse reactions in patients with aHUS (incidence ≥20%) were upper respiratory tract infection, diarrhea, nausea, vomiting, headache, hypertension and pyrexia. Serious adverse reactions were reported in 42 (57%) patients with aHUS receiving ULTOMIRIS. The most frequent serious adverse reactions reported in more than 2 patients (2.7%) treated with ULTOMIRIS were hypertension, pneumonia and abdominal pain. In clinical studies, clinically relevant adverse reactions in <10% of patients include viral tonsillitis in adults and viral infection in pediatric patients and in 3% of adult patients include infusion-related reactions.
Adverse Reactions for Subcutaneous Administration of ULTOMIRIS
Most common adverse reactions (≥10%) with ULTOMIRIS subcutaneous administration via On Body Injector in adult patients with PNH were local injection site reactions, diarrhea, and headache.
DRUG INTERACTIONS

Plasma Exchange, Plasmapheresis, and Intravenous Immunoglobulins
Concomitant use of ULTOMIRIS with plasma exchange (PE), plasmapheresis (PP), or intravenous immunoglobulin (IVIg) treatment can reduce serum ravulizumab concentrations and requires a supplemental dose of ULTOMIRIS.
Neonatal Fc Receptor Blockers
Concomitant use of ULTOMIRIS with neonatal Fc receptor (FcRn) blockers (e.g., efgartigimod) may lower systemic exposures and reduce effectiveness of ULTOMIRIS. Closely monitor for reduced effectiveness of ULTOMIRIS.
INDICATION
ULTOMIRIS is indicated for the treatment of adult and pediatric patients one month of age and older with atypical hemolytic uremic syndrome (aHUS) to inhibit complement-mediated thrombotic microangiopathy (TMA).
Limitation of Use:
ULTOMIRIS is not indicated for the treatment of patients with Shiga toxin E. coli related hemolytic uremic syndrome (STEC‑HUS).
Subcutaneous Use in Adult Patients with aHUS
Subcutaneous administration of ULTOMIRIS is not approved for use in pediatric patients.
Please see accompanying full Prescribing Information for ULTOMIRIS, including Boxed WARNING regarding serious and life-threatening meningococcal infections/sepsis.